On 1 September 2022 our club took responsibility for coaching our swimmers appointing Tracy Breuer as head coach. Supporting Tracy we have a team of assistants.
Our Club seeks maintain high-quality coaching to lead our training programme, and support our swimmers. Nick Jessen has taken the role of Coaching Liaison Officer to support our coaches on behalf of our Club Committee.
If you have any questions for Tracy or Nick you can talk to them on pool-deck or contact them by email coach@kiwiwest.org.
Head Coach – Tracy Breuer
Tracy was raised in the small South Waikato town of Tokoroa. She began competing in swimming herself at the age of 8 years and was a below average youth and age group athlete.
At the age of 19, after a year away from swimming, Tracy decided to commit to the sport and give it a really good crack aiming for the Olympic Team. Between 19 and 26 years of age, Tracy competed at multiple NZ national events, Australian State Championships, Oceania Games, World Short and Long Course Events, with her pinnacle event being the 2016 Olympic Games in Rio de Janeiro.
Throughout Tracy's athletic career she has been involved in many aspects of the sport including multiple club committees, regional committee, athlete representation, and even a retail assistant for Swim T3. Her biggest commitment to the sport outside of her own swimming was coaching.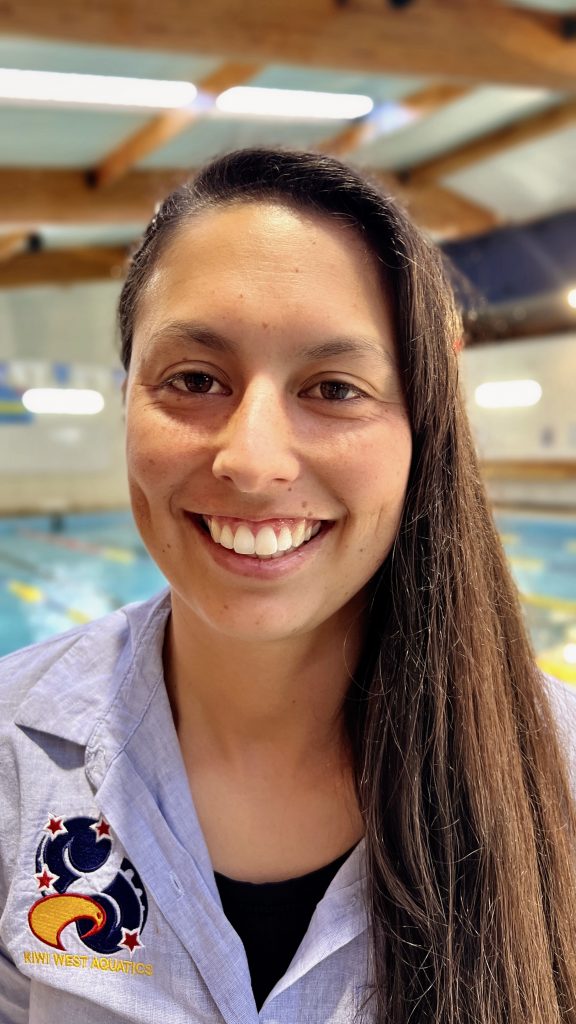 Tracy began coaching at 19 years old and since then has taught or coached everybody from babies' classes, learn to swim, junior and youth athletes, right through to masters.
Tracy is married to Ramone who is a member of the NZDF. Together they are proud parents to cheeky young boy, and have two dogs and one cat. She is also the manager at the Kelvin Grove City Fitness, teaches group fitness classes throughout the week and has recently taken up playing social football.
Tracy enjoys working with all the athletes at Kiwi West Aquatics. She hopes to push them to new levels, encourage them to be pro-active athletes and support them to become stand-out individuals in their own way.