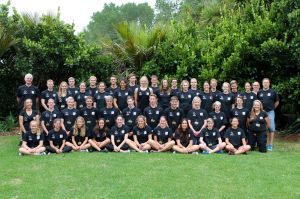 The national zonal championship at Auckland on Sunday saw two 14-year-old national age-group records set by Kiwi West swimmer Mya Rasmussen of the All Stars team selected from Wellington-Manawatu.
First was the 400m individual medley in 4 minutes 51.85 seconds, two seconds faster than the mark she set just two weeks ago in Wellington.
This was also a swim that saw Mya use the All Stars junior girls' joker – this means the race earned for her double points, 52 rather than 26 points for first place.
She also set a record for the 800m freestyle in 8:56.96.
Mya was first in the junior girls' age group in her three events in times faster than many of the older and more experienced competitors, earning her maximum points towards the team total.
Other members of the All Stars team to impress were Kiwi West Aquatics swimmer Xavier Hill, finishing second in the 100m butterfly and 200m butterfly and third in the 400m individual medley shaving off 7 seconds on his personal best.
Blake Gunn was second in his 200m individual medley and Jenna Buchanan third in her 100m butterfly.
Keely McKnight was consistent in her swims with everyone contributing well to overall team points.
The All Stars team sat second to the Auckland-based Harlequins for the majority of the meet. They were passed by the Makos from the South Island and Aqua-Knights from the Central North Island in the dying minutes of the meet, but it was still a creditable performance from them.